Description
**CALL FOR QUOTE AND DEVICE OPTIONS**
--
Safefume™ cyanoacrylate fuming chambers are designed to safely develop latent fingerprints using ethyl cyanoacrylate (CNA) vapor in a controlled environment for optimum effectiveness and safety where moisture and fuming time are critical factors. The tamper resistant compartment helps maintain the chain of custody. The unique Air Science® Multiplex™ filtration system, together with professional design and unique construction features offer personnel protection during use.
The ductless filtration system requires no connection to an outside exhaust system. The automatic control system programs the fuming cycle. A versatile system of hanging rods and shelves allows proper positioning of items of evidence in the chamber.
The professionally designed automatic fuming chamber eliminates reliance on do-it-yourself systems that lack user-safety allowances and microprocessor controls needed for repeatable results.
The Safefume system controls all functions from start-to-finish, permitting the investigator to initiate an unattended automatic cycle, establish the proper fuming intensity and duration, and to return upon completion to collect results.
Fuming time, humidity and chamber fume evacuation can be user-set to comply with internal department criteria, lab safety protocols or best practices in evidence management.
Safefume Features & Benefits
Our Safefume chambers provide key operational advantages that make evidence processing safer, easier and more accurate.
Internal Chamber Cleansing. Operators are protected from harmful cyanoacrylate vapor out-gassing when the unit is not in use. Even if the unit is not running, internal surfaces may still be contaminated from the previous processing cycle.
Fuming Delay. Cyanoacrylate fuming achieves maximum results under 70% to 80% humidity. We have developed a hot plate fuming delay that only activates at the user-determined chamber humidity, ensuring better results and clearer print impressions on the first fuming.
Cool Mist Nebulizer. Open steam reservoir humidifiers are slow and inaccurate, while faster ultrasonic humidifiers remain sensitive to residue buildup on the water tank. The Cool Mist Nebulizer can be programmed to achieve preset humidity conditions quickly and accurately, using a replaceable "wicking" filter to eliminate excess cyanoacrylate from building up on the unit.
Adjustable Temperature Hot Plate. (Optional) The Safefume™ is versatile, offering optional hot plates to cater to a variety of fuming techniques, including Microburst and typical Super glue methods.
Product Features: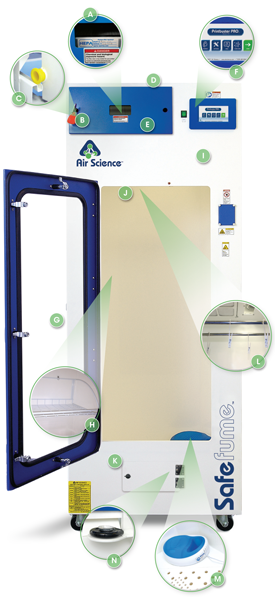 A. Filter I.D. Window: A strategically placed front cover window shows the installed filter part number and installation date for convenience and to encourage timely filter replacement.
B. Filter Door Key: Filter access keys prevent unauthorized removal or accidental exposure to dirty filters.
C. Track & Wheel System: An efficient filter clamping mechanism allows removal of main filter(s) directly to disposal bag with track and wheel system.
D. Electrostatic Pre-Filter: The 99.5% effective electrostatic pre-filter protects and extends the life of the main filter and can be changed without tools while unit is running to prevent operator exposure to captured contaminants.
E. Dynamic Filtration Chamber: The dynamic filter chamber prevents leakage of contaminated air by maintaining partial vacuum in the filter plenum.
F. Control Panel: The microprocessor control panel manages the Printbuster™ Pro operating sequence with control, oversight and display of all processing functions. The LCD display works with a touchpad data entry keypad to establish all operating parameters.
G. Doors: Tempered glass, keyed doors with aluminum frame and tamper proof seal, provide improved security, stability and ease of cleaning. (scratch-resistant glass for lasting optimum visibility).
H. Shelving: Standard height units include one shelf in a fixed position. Extra tall units include one shelf that is repositionable to fit two configurations.
I. Fan: High velocity sparkless and brushless centrifugal fan.
J. Lighting: Vapor-proof fluorescent light.
K. Color: The cabinet is white with blue door(s).
L. Hanging Rods: Removable and adjustable stainless steel hanging rod for proper orientation of evidence.
M. Cool Mist Water Nebulizer/Humidifier: Programmable to achieve preset humidity conditions quickly and accurately, using a replaceable "wicking" filter to eliminate excess cyanoacrylate from building up on the unit.
N. Hot Plate Accelerator: Hot plate to polymerize ethyl cyanoacrylate. We also offer optional adjustable temperature hot plates to accommodate a variety of fuming techniques, including Microburst and typical Super glue methods. Hot plates are available with basic knob controls as well as advanced microprocessor controls with LED display.
Other Features:
Standards Compliant: Performance specifications and construction meet or exceed OSHA, ANSI and relevant international standards to assure operator safety..
Construction: Models are available in either polypropylene and epoxy coated steel or aluminum frame with plastic wall construction. Doors are tempered glass locking doors with tamper-proof seal and aluminum frame. See selection chart for specifications and dimensions. Available in 110V, 60Hz single phase electrical supply (other voltages available on request).
Optional UV Lamp: Activated ultraviolet light provides secondary disinfection of the interior between cases to prevent cross-contamination, ensuring integrity of the samples for DNA testing.
Internal Chamber Cleansing: The Internal Chamber Cleansing feature automatically activates to eliminate contamination and remove the harmful vapor from the unit. This process is especially important if the unit is used infrequently or only during certain periods of high evidence volume